July 14, 2020 River Flows
Real-Edwards Conservation & Reclamation District
River Flows taken July 14, 2020


Nueces River flow measurements were taken on July 14, 2020. The Dam crossing on Hwy 55 South of Camp Wood decreased its flow from 29,861 gpm (gallons per minute) at last measurement to a current reading of 25,177 gpm. The McDonald crossing also decreased from 20,323 gpm to a current measurement of 12,934 gpm. The McDonald crossing continues to have several (5) pipes clogged with debris and gravel impeding flows.


Both Llano River crossings in northern Edwards County were taken on July 14, 2020. As you can see, measurement flows are slightly decreasing for both Telegraph and Evergreen crossings. For the crossing at Telegraph, the South Llano River measured a flow of 45,638 gpm two weeks ago and now measures at 43,531 gpm. The Evergreen School crossing measured 46,766 gpm and now measures at 45,754 gpm.


On Ranch Road 336 north of Leakey is Kent Creek which flows into the West Prong of the Frio River. As with all our measurements, this crossing decreased in flow from 681 gpm to 561 gpm. Further north off of RR336 in Rancho Real, the 1st crossing of the West Prong of the Frio River also decreased in flow from 6,077 gpm to 4,239 gpm. Both crossings have pipes that are obstructed with debris impeding the flow of the waterways.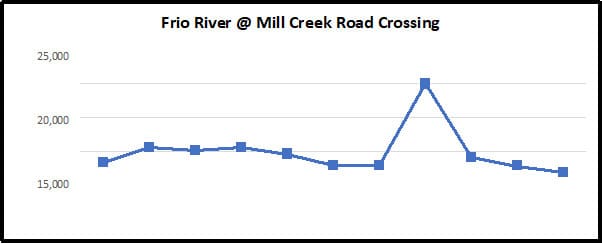 Heading north on Hwy 83, Mill Creek Road crosses the East Prong of the Frio River before it joins the West Prong. This crossing showed a decrease from 7,795 gpm at last measurement to 6,854 gpm. There are several pipes clogged with dirt, gravel and debris.

East on Ranch Road 337 and past the cemetery is the serene Leakey Springs tributary that flows into the Frio River. This crossing also showed a decrease of flow from 2,547 gpm to a current measurement of 1,608 gpm. One of the pipes is clogged with debris and has no flow.

Moving down the Frio River to FM 1120 past the Alto Frio Baptist Encampment (Fulgham's Crossing), again flow decreased from 11,131 gpm to 9,363 gpm. As with most of the other crossings, there are several pipes that are clogged with debris impeding flow.
We are definitely in a hot and dry spell. According to Dr. Mark Wentzel,hydrologist for Texas Water Development Board, Texas has experienced the third driest November 2019 through April 2020 since 1948. Predictions are that we will continue to have warmer-than-average temperatures through August. KEEP PRAYING FOR RELIEF AND RAIN!