Real-Edwards Conservation & Reclamation District River Flows
All river flow measurements were taken the week of March 15, 2021. Our crossings saw quite an irregular fluctuation in flow last year due to random rainfall, drought, and usage from the summer months. All river crossings have gravel, rocks and debris clogging several pipes.
According to Water Weekly published by Texas Water Development Board (TWDB), although both Edwards and Real counties have experienced unusual snow and cold since December 2020, the National Weather Service expects Texas to see above normal temperatures and below normal precipitation through May. This will expand the drought to cover all but the eastern edge of Texas. Expect to see increased signs of drought in our area.
REMINDER: Both Edwards and Real counties are in a Burn Ban as well as Stage 3 Drought
Status. Be aware of fire hazards as well as dropping water levels. And pray for relief!
UPDATED NUECES RIVER MEASUREMENTS WILL SHOW IN THE NEXT RIVER FLOW ARTICLE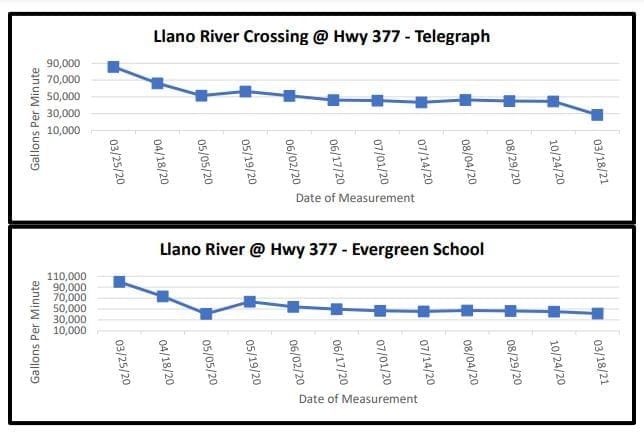 The South Llano River dips into northern Edwards County where it borders Kimble County and crosses Highway 377 twice. For the crossing at Telegraph, the South Llano measured a decrease in flow of 28,701 gpm from the last measurement of 44,663 gpm. The Evergreen School crossing also slightly decreased to 41,913 gpm from the last measurement of 45,213 gpm.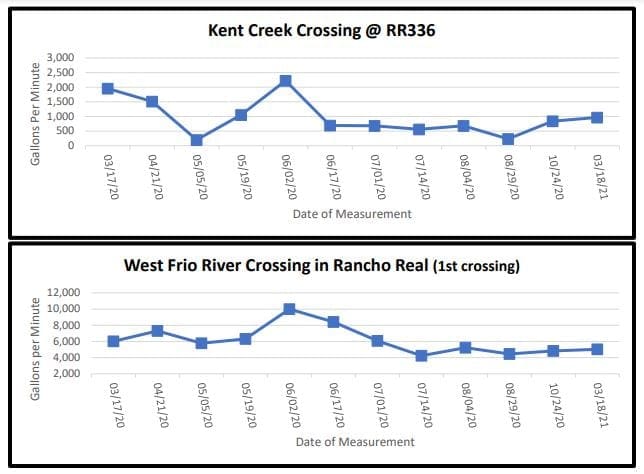 On Ranch Road 336 approximately 10 miles north of Leakey, Kent Creek crosses under the road and flows into the west prong of the Frio River. This crossing had a slight increased flow of 966 gpm from 842 gpm. Also, on RR336 is Rancho Real where the west prong of the Frio River twists and meanders. At the first crossing in Rancho Real, there was a slight increased flow of 5,032 gpm from 4,843 gpm at last measurement.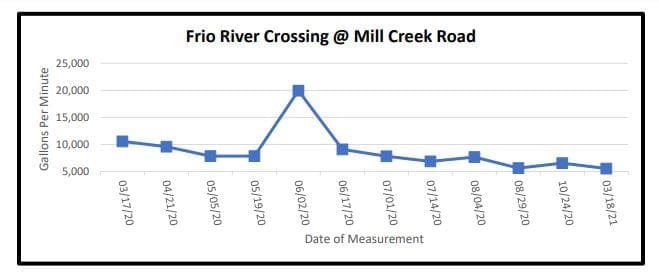 On U.S. Highway 83 north of Leakey, Mill Creek Road crosses the east prong of the Frio River before it merges with the west prong. This crossing showed a decreased flow of 5,539 gpm from last measurement 6,524 gpm.

Following east on Ranch Road 337 and past the cemetery is the serene Leakey Springs tributary that flows into the Frio River. This crossing measured a slight increase to 3,345 gpm from last measurement of 3,106 gpm.

Traveling east on FM 1120 past the Alto Frio Baptist Encampment (also known as Fulgham's Crossing), the flow increased to 11,991 gpm from 9,389 gpm last measurement in October 2020.