Real-Edwards Conservation & Reclamation District
River Flows
All river flow measurements were taken on Wednesday, May 12, 2021. Even with the rain we received recently, our area is still in need of rain. As temperatures and usage begin to increase, be aware that our area will likely see declining water well levels and river flows.
REMINDER: Both Edwards and Real counties are in a Stage 3 Drought status. Now is the time to begin conserving water by consuming less and using efficiently. And pray for relief!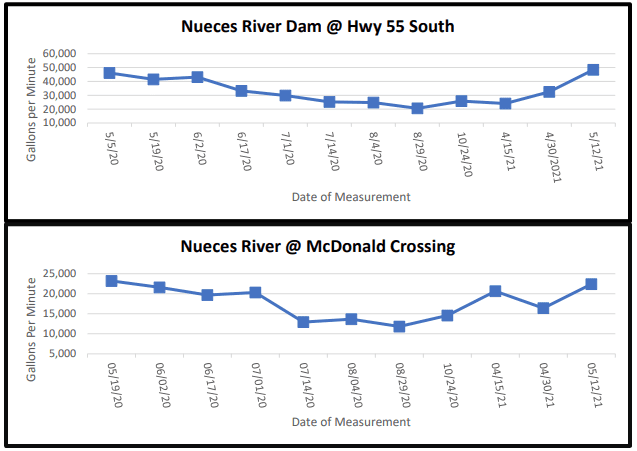 The Nueces River crossing at Highway 55 South of Camp Wood near the dam increased its flow from the last measurement taken April 30, 2021, from 32,473 gpm to the current reading 48,409 gpm. At the McDonald Road crossing, the Nueces River increased from 16,392 gpm to the current reading 22,412gpm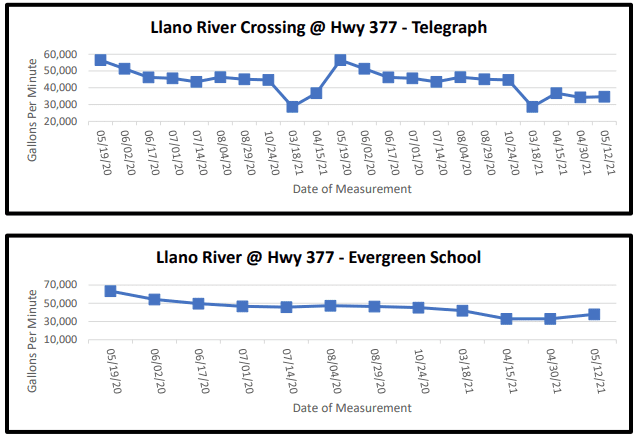 The South Llano River dips into northern Edwards County where it borders Kimble County and crosses Highway 377 twice. For the crossing at Telegraph, the South Llano measured slight increased measurement of 34,686 gpm from the last measurement of 34,361 gpm. The Evergreen School crossing also slightly increased to 37,918 gpm from the last measurement of 33,056 gpm.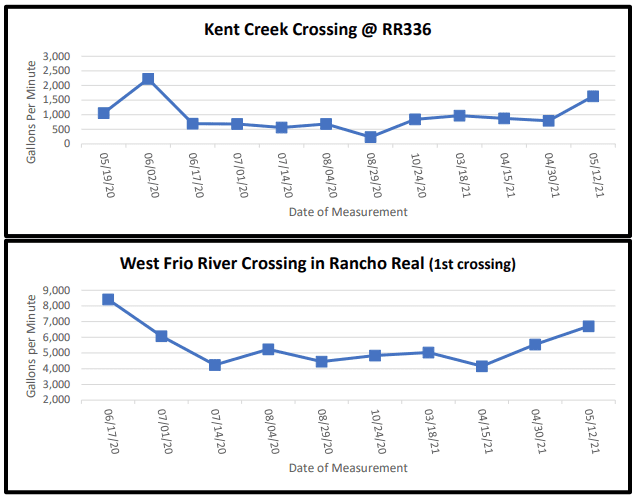 On Ranch Road 336 approximately 10 miles north of Leakey, Kent Creek crosses under the road and flows into the west prong of the Frio River. Kent Creek crossing had a slight increased flow of 1,630 gpm from the April 15, 2021 measurement of 792 gpm. Also, on RR336 is Rancho Real where the west prong of the Frio River twists and meanders. At the first crossing in Rancho Real, there was also an increased flow of 6,710 gpm from 5,548 gpm at last measurement in April.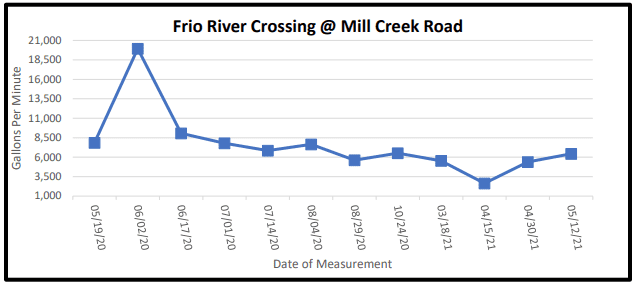 On U.S. Highway 83 north of Leakey, Mill Creek Road crosses the east prong of the Frio River before itmerges with the west prong. This crossing showed an increased flow of 6,440 gpm from the measurement in April of 5,386 gpm.

Following east on Ranch Road 337 and past the cemetery is the serene Leakey Springs tributary that flows into the Frio River. This crossing measured 3,999 gpm from last measurement of 4,067 gpm.

Traveling east on FM 1120 past the Alto Frio Baptist Encampment (also known as Fulgham's Crossing), the flow increased to 22,197 gpm from 9,889 gpm at last measurement in April.